Our Fire Show offers much more than just fire
Elaborated costumes, mesmerising choreographies, professional show, art of movement.
From lyrical and romantic duets, through sensual acts performed by firedancers with fire hula hoops, choreographies with poi and dynamic dance with flaming staff to group choreographies full of sparks and pyro effects.
Our exciting FIRE Show was successful in fifteen countries on three continents.
Due to our high safety standards we are able to carry out indoor fire performances as well as run the fireshow on unusual premises.
FIRE Showreel
A dynamic review from our Fire Show features a brief insight into the various forms of dance figures with fire. Podium show, corporate events, street festivals and TV shows - the group Anta Agni has performed hundreds of performances in dozens of countries around the world.
Fire show on the stage!
Fire show on the stage - is a spectacular dance choreography full of fire, sparks and lighting effects. Anta Agni brings a new dimension to dynamic fire performance that is suitable also for large stages.
Anta Agni Firedancers Go Hot
A game of the light and the dark, harmony of rhythm and movement, energy and elegance - Anta Agni fire show is hot indeed!
From the start the cooperation was easy and quick. Their performers are professional individuals, who create an amazing atmosphere with both the Fire Show and the beautiful UV Show. Anta Agni is definitely a great addition to any event.
Aly Goede
Head of Artist Management & Bookings Dept.
Nacelle
Cairo, Egypt
Technical rider
Basic requirements - Space and Lights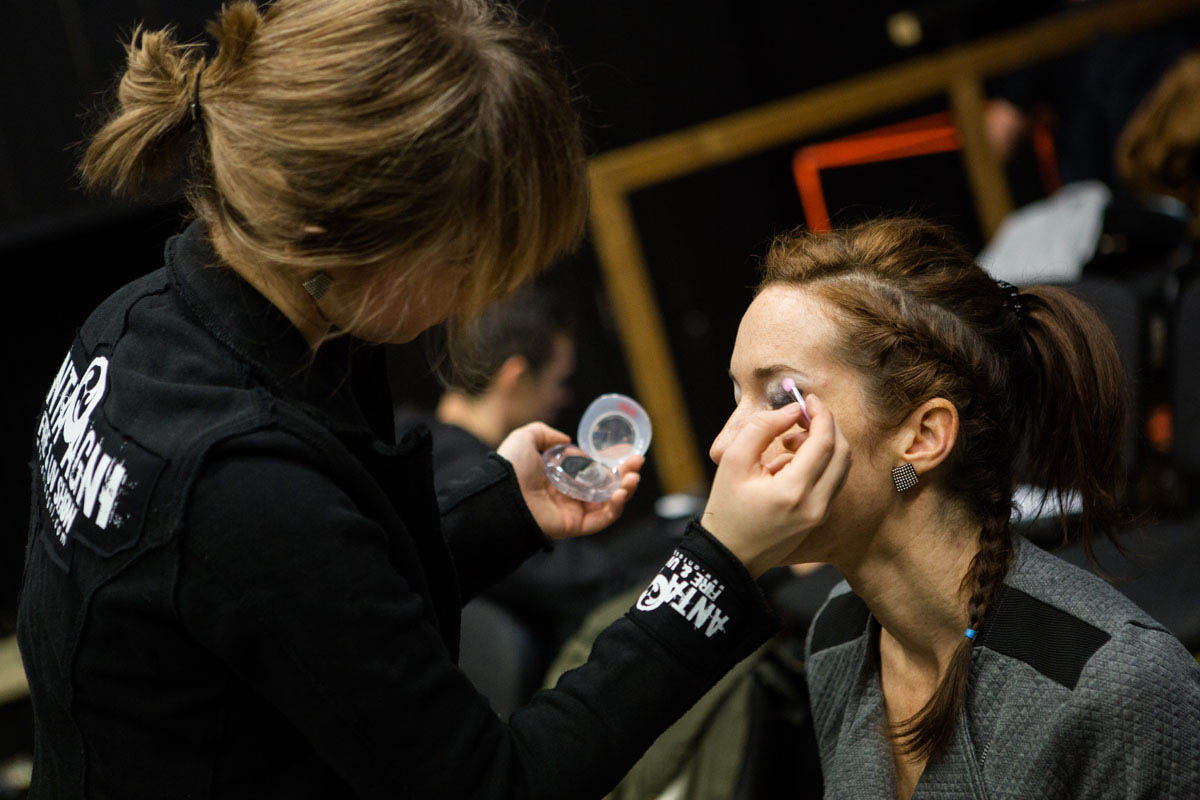 The basic performance by 2 or 3 firedancers lasts 8-12 minutes and requires an area of minimally 4x4 meters. For an indoor performance is ceiling height of 3 meters needed.
For bigger events a performance by 4 or 5 dancers can be made. In case of such a performance an area of minimally 6x5 meters is required. If you are interested in really huge FIRE Show with more performers, please let us know details (length of show, size of stage, number of entrances) and we will send you customized offer.
The stage area must be clear of all objects. Drum kits, pianos, fragile objects should be covered. All backdrops and curtains have to be inflammable. The stage surface must be flat, clean splinter free, ice free and dry.
The Fire show performances are the most effective in an darkness, eventually in a mild colour light. Soft lighting can be used, mainly blues, purples, reds and oranges.
Are you interested in Anta Agni's performance?
We can send you a complete list of our acts with prices and technical requirements. You can choose a show in accordance with your wish - from smaller acts (2 - 3 dancers) to big group choreographies (10 dancers). We are able to adjust the performance to unusual conditions.
All the members of our group are experienced professionals who master different types of performing tools and techniques. Therefore, a small number of Anta Agni fire dancers is able to carry out a wide variety of acts and choreographies in various costumes.